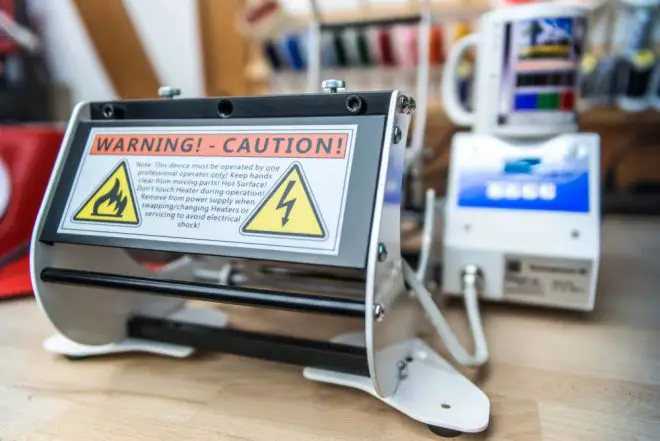 Sublimation printing is a relatively new technology; it has only been available for personal, desktop use for a few years. As you can imagine, this means that the number of "sublimation-specific" printers out there is relatively low. In fact, Sawgrass is the only company that currently produces sublimation-specific printers for personal use.
Surprisingly, that doesn't mean that you are subjected to only purchasing Sawgrass printers. Many inkjet printers can easily be converted into sublimation printers with a few easy steps. Below, we will examine the best sublimation printers currently in existence for personal use and discuss which inkjet printers can most successfully be transformed into sublimation printers.
Types of Sublimation Printers
In general, sublimation printers can be sorted into three main categories:
Desktop Printers: These printers are typically for personal use. They are smaller in size, with the largest typically accommodating a 13"x19" sublimation paper (perfect for 12"x18" images, which are typically standard for t-shirt prints).
Narrow-Format Printer: These printers are typically free-standing printers and are primarily for commercial use. They print onto rolls of paper that are anywhere from 24" to 44" wide. Narrow-format printers can print a higher volume of prints than desktop printers.
Wide-Format Printer: These printers are known as industrial printers and are ideal for textile printing, banners, all-over garments, and other large-scale printing projects. Wide-format printers rely on rolls of paper that are anywhere from 44" to 104" wide.
Additional Considerations
When preparing to choose a sublimation printer, you should first consider what you will need from your printer. Some of the most important things to consider include:
Printer Type. When choosing a printer for sublimation, you can choose either a sublimation-specific printer or an inkjet printer that has been converted for sublimation printing. In general, sublimation printers provide higher-quality sublimation prints at a higher cost.
Size of Printing Field. The size of your printer will be determined by the size of the prints you are planning to do. For example, if you are printing on coffee mugs, you likely will not need a 24" by 36" sublimation printer. When considering your size requirements, remember that most printers do not print to the edge of the sheet. Therefore, it's important to get a printer that is slightly larger than what you will be printing.
Print Volume. Some printers can be used with bulk ink systems that allow you to print higher volumes. When you use bulk ink cartridges, you spend less money per milliliter of ink. However, if you're not printing a large volume, the bulk system may be detrimental, as ink can clog and dry over time.
Number of Ink Colors. Most printers come with standard four-color printing capabilities. The base colors of these printers are cyan, magenta, yellow, and black (CMYK). However, if you are printing photography or intricate artwork that will require subtlety in shade and tone, you may consider investing in a 6-color or 8-color printer.
Print Speed. We all know the adage "time is money." If your business is dependent on quick turnaround times, a quick print speed is imperative. When looking at print speed specs, make sure to pay attention to the size of the object printed and the number of colors used. Smaller images with fewer colors will print faster.
Top Sawgrass Sublimation Printers for Personal Use
When choosing a sublimation printer, it's important to remember that no one printer will be best in all situations; you have to choose the best printer for you. Therefore, we have listed the best printers on the market (along with their specs) to help you choose the printer that is right for you.
As mentioned above, Sawgrass is the only company on the market producing desktop sublimation-specific printers. Therefore, if you want a sublimation-specific printer, we recommend the following Sawgrass printers:
|   | Sawgrass Virtuoso SG500 | Sawgrass Virtuoso SG1000 | Sawgrass Virtuoso VJ 628 |
| --- | --- | --- | --- |
| Price (USD) | $549 | $1,499 | $4,449 |
| Maximum Media Size (inches) | 8.5" x 14" | 13" x 19" | 24.3" rolls |
| Print Speed | 82 prints/hour | 69 prints/hour | 52 sq. feet/hour |
| Ink Set | CMYK | CMYK | CMYK |
| Bulk Ink System Potential | No | No | No |
| Media Tray Capacity | 250 sheets | 250 sheets | N/A |
| Max Resolution | 600 x 600 dpi | 600 x 600 dpi | 720 x 1440 dpi |
| WiFi Capabilities | Yes | Yes | No |
| Dimensions | 15.75˝ x 17.25˝ x 8.5˝ | 21˝ x 14.25˝ x 8.5" | 47" x 23" x 46" |
| Ideal Use Situation | Next generation of the Sawgrass SG400 sublimation printer. Made for personal use. Ideal for high-margin items, such as coffee mugs and coasters. | Made for small business use. Ideal for apparel, soft goods, and medium-sized photo panels. | Made for commercial use. This printer is ideal for businesses that are looking for a quick startup with a reliable product. |
Inkjet Printers for Sublimation Printing
Because personal-sized sublimation printers are few and far between, some companies have developed methods for converting inkjet printers into sublimation printers. If you choose to convert an inkjet printer, it is important to ensure that you have the correct ink, paper, and tools before creating sublimation prints. For more information about sublimation printing, check out our other article, Sublimation Printer / Printing).
Why Choose an Inkjet Printer for Sublimation Printing
Many people choose to convert inkjet printers rather than purchasing sublimation-specific printers. Converting an inkjet printer for sublimation printing has several key advantages and disadvantages:
| Advantages | Disadvantages |
| --- | --- |
| Cheap sublimation printer option | Switching to sublimation almost always voids your warranty |
| You can convert a printer you already have at home | Inkjet companies are not equipped to provide support for issues with sublimation printing |
| Most inkjet printers have other features that you can also use, including faxing or scanning | |
How to Determine Whether an Inkjet Printer can be converted for Sublimation Printing
Inkjet printers can be separated into two categories based on their technology:
Printers that utilize thermal (heat) technology to transfer ink to paper
Printers that utilize piezo (pressure) technology to transfer ink to paper
In general, thermal printers CANNOT be used for sublimation printing.
Thermal inkjet printers transfer the ink to the paper by heating the ink to the right consistency. Sublimation printing uses a different ink type, which does not respond to the heat in the same way. Rather than transferring the sublimation ink to the paper, the thermal printer either bakes the ink onto the paper or causes the ink to gas out of the cartridges. This leads to images that are distorted or blotchy.
Printers that use piezo technology do not rely on heat for the ink transfer and can be successfully used with sublimation ink.
Epson Printers for Sublimation
Epson is known as one of the main producers of personal-use sublimation printers. Ironically, Epson doesn't actually make sublimation printers. All Epson printers use piezo technology to print, which just so happens to make them ideal for conversion into a sublimation printer.
Our top Epson sublimation-compatible printers include:
 
Epson WorkForce WF-7720
Epson WorkForce WF-7210
Epson WorkForce WF-7710
Epson EcoTank ET-15000
Epson Stylus C88
Price
$199
$199.99
$149
$599
$650
Maximum Media Size
13" x 19"
11" x 17''
13" x 19"
13" x 19"
8.5"x 11"
Print Speed
Black: 18 ISO pages/minute
Color: 10 ISO pages/minute
Black: 8.7 ISO pages/minute
Color: 6 ISO pages/minute
18 pages/minute
20 pages/minute
19 pages/minute
Ink Set
CMYK
CMYK
CMYK
CMYK
CMYK
Bulk Ink System Potential
No
Yes
Yes
No
No
Media Tray Capacity
250 sheets per tray
(two trays)

125-sheet tray
250-sheet tray
50-sheet tray
120-sheet tray
Max Resolution
4800 x 2400 dpi
4800 x 2400 dpi
4800 x 2400 dpi
4800 x 1200 dpi
5760 x 1440 dpi
WiFi Capabilities
Yes
Yes
Yes
Yes
No
Size
40.8 lbs.
32.8 lbs.
41 lbs.
26.46 lbs.
10 lbs.
Ricoh Printers for Sublimation
Ricoh printers are distinguished in their use of gel ink. Though still inkjet printers, the ink they use is far thicker than typical ink. This lends Ricoh printers perfectly to converting to sublimation, as the printer heads are already large enough to accommodate the sublimation ink without the risk of clogging (unlike many of the other inkjet options).
While Ricoh sublimation printers are a great alternative to Epson, they can be challenging to purchase in the United States. With all manufacturers overseas, Ricoh printers are still not common in the States.
Canon Printers for Sublimation
Canon printers are thermal printers, and therefore cannot be converted for sublimation printing.
If you've researched sublimation printers, you may have seen the Canon Selphy sublimation printers. While these printers do use sublimation ink, they do not use sublimation paper. Rather, they use sublimation processes to create beautiful photo prints.
If you are looking for a beautiful photo printer, the Canon Selphy sublimation printer is a great choice. However, if you are looking for a sublimation printer, the Canon Selphy sublimation printer is NOT the printer for you.
Brother Printers for Sublimation
Most Brother printers are piezo printers and can therefore be converted for sublimation. However, Brother printers are challenging to use as sublimation printers because sublimation ink cartridges are not made for Brother printers.
Other ink cartridges can be used, but they tend to produce a faulty ink profile and fuzzy images.
The one Brother printer that has positive reviews as a sublimation printer is the Brother MFC-J995DW:
 
Brother MFC-J995DW
Price
$199
Maximum Media Size
8.5" x 14"
Print Speed
Black: 12 pages/minute
Color: 10 pages/minute
Ink Set
CMYK
Bulk Ink System Potential
No
Media Tray Capacity
150 sheets
Max Resolution
Black: 98 dpi
Color: 196 dpi
WiFi Capabilities
Yes
Size
19.20 lbs.
Ideal Use Solution
Made for small business use, best for fabric printing.
HP Printers for Sublimation
HP inkjet printers are thermal printers. As such, they cannot be converted into sublimation printers.
HP does sell a line of industrial printers that can be used for sublimation; however, these industrial-level sublimation printers start at $7,000 and are typically too large for a home setup.
FAQs
Can any printer be used as a sublimation printer?
No, thermal printers cannot be used as sublimation printers.
Do you need to use sublimation ink in a sublimation printer?
What is the best sublimation ink?
For best quality prints, it is always best to use ink cartridges created specifically for your printer. Most experts recommend Inktec Sublimation Ink.
Does sublimation printing require special paper?
Yes, sublimation paper must be used for sublimation printing. Sublimation paper is less absorbent than normal printer paper and can withstand the heat and pressure of the sublimation printing process.
What do I do if my sublimation printer is clogged?
If a printer is unused for a long period of time, the printer heads can dry out or clog. If the ink is unable to pass through the printer head, you can run a printer head cleaning and flush cycle to dislodge the ink.
What heat press do I need for sublimation printing?
The type of heat press you need is dependent on what type of sublimation you will be performing. The size and shape of the final product (e.g., the mug, canvas, or apparel you are putting your image on) will impact which heat press you need. For more information, see (Sublimation Printer / Printing).